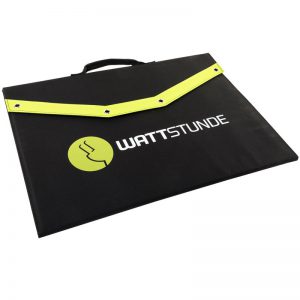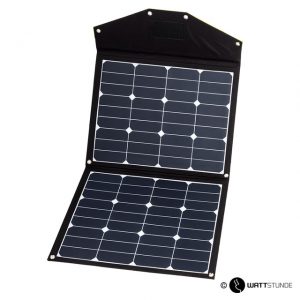 Mobile solar panels, space-saving and lightweight
Solar folders are foldable modules and are placed in the sun only when energy is demanded, e.g. behind the windshield or to a sunny outdoor place. Therefore, they are also an interesting alternative for campers with tents. The solar folders have high-quality solar modules with back-contact Sunpower ® solar cells for optimal results and high energy output. The MPPT charging controller gets the optimum out of the solar modules. Thanks to an integrated Bluetooth interface, you can read the charging voltage and the charging current on a smartphone and thus optimally align the solar bag. With the 5m long cable with connector, you can simply connect the solar bag to the loading controller. The sets are made of solar folder  with connector cables and plugs, charging controllers and battery connection cables.
A life extension of the batteries is not given, because the solar folders are not permanent connected.
Features
• MPPT Solar charging controller with integrated Bluetooth interface and monitored load exit. App available for Android smartphone and iPhone
• Back-Contact Sunpower ® Solar Cells
• Cell efficiency above 20%
• ETFE film with high elasticity and durability
• Rain repellent due to straining Cordura ® fabric
• Extremely lightweight and space-saving
• Wide usability due to high flexibility
• Connecting cable 5m with plug-in system
• Performance guarantee 10 years (to 80% of performance)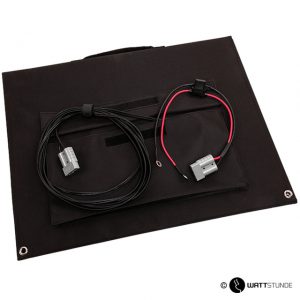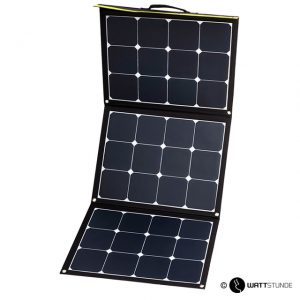 Solar folder 80Wp
• Peak rated power 80Wp
• MPPT Solar charging controller with integrated Bluetooth interface
• Average daily yield 360Wh,
or 30Ah a day
• Module scale closed in mm 560 x 440 x 15
• Module scale open in mm 560 x 880 x 7.5
Price: € 330,00
Without packaging and shipping
—
Solar folder 120Wp
• Peak rated power 120Wp
• MPPT Solar charging controller with integrated Bluetooth interface
• Average daily yield 540Wh,
or 45Ah per day
• Module scale closed in mm 560 x 440 x 22.5
• Module scale open in mm 560 x 1320 x 7.5
Price: € 410,00
Without packaging and shipping
—
Solar folder 180Wp
• Peak rated output 180Wp
• MPPT Solar charging controller with integrated Bluetooth interface
• Average daily yield 800Wh,
or 67Ah per day
• Module scale closed in mm 820 x 440 x 20
• Module scale open in mm 820 x 1320 x 6.7
Price: € 560,00
Without packaging and shipping